A key application for TALEs is the targeted activation and repression of target genes in cells by fusing transactivation domains to TALE DNA binding domains . The TALE-TF construct is a powerful tool to selectively modulate gene expression in eukaryotic c
Supplier
LabOmics-GeneCopoeia
Product
TALE-TF custom service
Features
TAL technology: Custom fusion of a TAL DNA binding domain and VP64 transcription activator
Modulate Gene Expression: TALE-TF allows to selectively modulate gene expression in Eucaryotic cells
Targeted Gene expression modulation Gene artificial regulation with unsurpassed specificity
Pre-Validation as an option
A key application for TALEs is the targeted activation and repression of target genes in cells by fusing transactivation domains to TALE DNA binding domains . The TALE-TF construct is a powerful tool to selectively modulate gene expression in eukaryotic cells with exquisite specificity. The TALE-TF contains a TALE DNA binding domain fused to the VP64 transcription activator.
Figure 1. Illustration of TALE-TF design.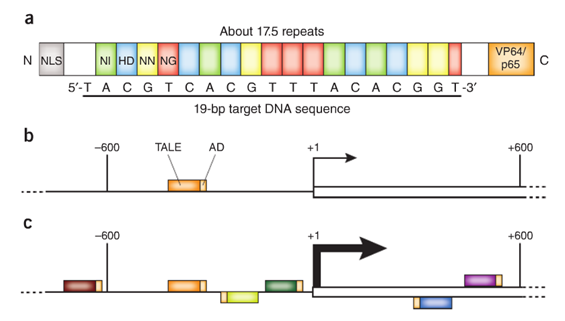 Figure 2. Synthetic TALE activators act synergistically to express human genes. (a) Cartoon of a TALE. The indicated amino acids in each repeat recognize the base below. NLS, nuclear localization sequence; VP64/p65, activation domains (ADs). (b) Single TALEs induce target human genes with variable efficiencies. (c) Combinations of TALEs targeting either DNA strand allow for much higher gene induction rates. (Nature Methods. 2013 Vol. 10. No. 3: 207-208)


The TALE-TF service includes the design of TAL DNA binding domain that target the promoter region of your gene of interest a carefully chosen set of TALENs. Our TALE-TF custom service will allow you to start your experiments with a well-designed, ready-to-use TALE-TF, bypassing the need for labor-intensive TALE design and synthesis efforts in your own lab. A validation service is also available.
Targeted activation and repression of target genes in eucaryotic cells
Figure 1. Illustration of TALE-TF design. Figure 2. NTF3 TALE-TF regulates endogenous NTF3 transcription. Endogenous NTF3 transcription activation by TALE-TF: HEK 293T cells transfected with the NTF3 TALE-TF (6 well plate, 1 µg plasmid per well) exhibited a 17-fold increase in the amount of NTF3 mRNA compared to cells transfected with an empty vector. Measurements were performed in triplicate.
1. Identify the gene target of interest:
Gather as much as possible of the following information: Gene Description, species, Nucleotide Accession, Entrez Gene ID, Symbols/Aliases or Catalog/product ID. You can also submit a sequence so we can search by target gene sequences homology (BLAST)
2. Fill out the order form:

and fill with requested information. Send it back to us by email or FAX. We will contact you shortly to confirm: sequences, vectors and related products