Expression-Ready ORF cDNA Clones
Expression-Ready ORF cDNA Clones
Features
Validated high quality full length protein coding ORF cDNA clones (from start to stop codons), fully sequenced & guaranteed
More than 20,000 human and 15,000 mouse genes available ready for immediate in vivo and in vitro expression.
Widest choices for expression systems: Bacterial, Mammalian, Lentiviral, Yeast, Wheat Germ Cell-free, Insect
Largest number of tags to choose from: eGFP, eYFP, eCFP, mCherry, HaloTag®, AviTag™, His, SUMO, GST, MBP, Flag, 3xFlag, HA, cMyc
Expression of proteins of your interest is now as easy as Click and Express by select and order OmicsLink™ clones and expressing them immediately in your laboratory. OmicsLink™ now offers clones in several expression vectors with a variety of promoters, optimal translation signals (for example: Shine-Dalgarno and Kozak for E.coli and mammalian cell expression systems, respectively), and features, which makes these clones suitable for expression and functional studies in various cell systems. We also offer OmicsMate™ service to construct expression clones for other vector systems that are desired by customers but not yet included in our offered product line.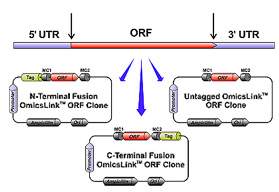 Multiple Sets of OmicsLink™ Expression Ready ORF cDNA Clones Available and Ready for Expression in Bacterial, Mammalian, Yeast and Insect Cells.

Vectors and tags:
Mammalian expression vectors:
Lentiviral vectors (HIV based):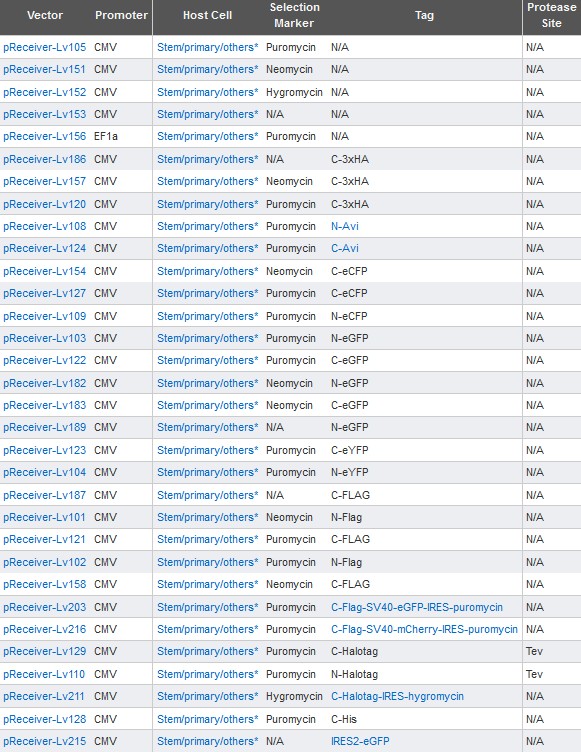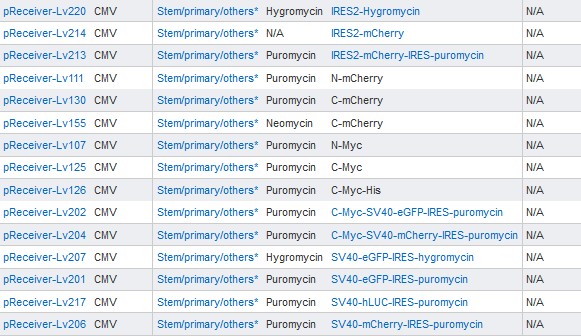 Lentiviral vectors (FIV based):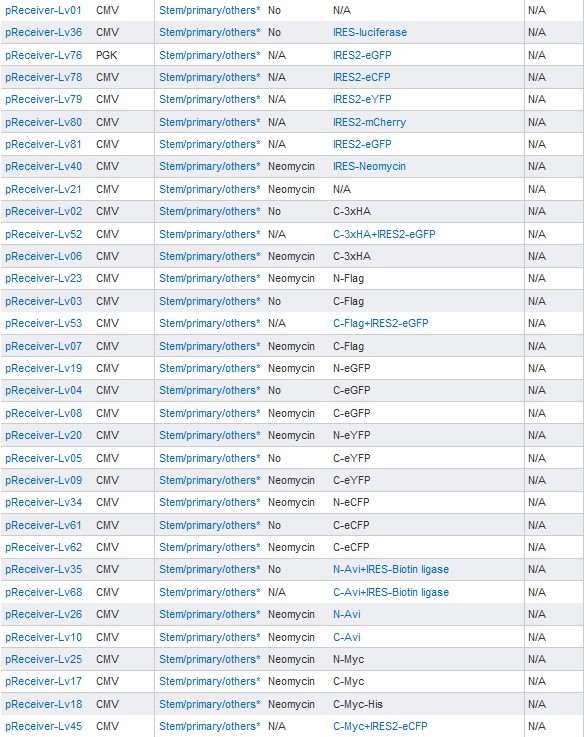 Bacterial expression vectors:
Yeast expression vectors:
Insect cells expression vectors:

Wheat Germ Cell free: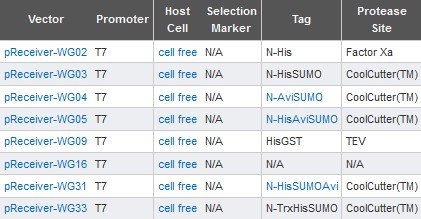 Largest number of tags to choose from:

Rigorous quality control and assurance process: OmicsLink ORF cDNA clones are derived from full-length human and mouse genes that were chosen through a strict selection process. This process includes the extraction, comparison as well as validation of gene sequences and annotation information from multiple public and private sources; clustering and reduction of redundant gene sequences, filtering out error sequences or sequencing errors plus several other manual curation steps.

Following this stringent selection process, the entire coding open reading frames (ORFs) were generated from sequence validated full-length cDNA clones or high-quality human tissue cDNA libraries to construct expression-ready clones.

Once the clone is constructed, GeneCopoeia follows additional quality control process to ensure the right clone is delivered to our customers.



All ORFs are fully sequenced.
PCR amplification and size validation
Enzyme digestion check of the integrity of whole plasmid.
Multiple applications
Express proteins in E.coli, mammalian cells or other common cell types.
Express in vitro with high success with cell-free translation systems.
Use tags for protein purification and production.
Use tags for purification detection and wide range of functional assays
Generate probes of in situ hybridization for tissue or organ gene expression profiling
Restore gene functions for shRNA or miRNA functional validation studies
High-throughput content and screening
Uniformity and high-quality clone sets make them ideal for large-scale high content and high-throughput screening studies in functional genomics, proteomics and systems biology.
Popular tags and technologies
Lentiviral technology–

Enables high efficiency gene delivery to virtually all cell types and whole model organisms resulting in high expression levels of delivered genes.

Internal ribosome entry site (IRES) technology –

Allows coordinated and efficient co-expression of two genes with the same promoter in a single vector. When reporter and target genes are simultaneously expressed, biological activities of the target proteins are minimally affected.

HaloTag® technology –

This novel multi-functional protein tag binds covalently and specifically to a variety of synthetic ligands, enabling tagged proteins to be labeled with fluorophores for in vitro or in vivo imaging or with affinity agents for purification.

AviTag™ technology -

Based on site-specific in vitro or in vivo biotinylation of a short tag sequence enabling specific or reversible binding of avidin or streptavidin to biotin for immobilization, purification and visualization of the tagged target proteins.

Cell-free technology –

Enables high success rate of target protein expression and natural protein folding with high percentage of active proteins. Proteins that are potentially toxic to cells can also be produced using the cell free system.
1. Identify the gene of interest:
Please gather as much as possible of the following information: Gene Description, species, Nucleotide Accession, Entrez Gene ID, Symbols/Aliases or Catalog/product ID. You can also submit a sequence so we can search by target gene sequences homology (BLAST)
Alternatively, you can use the search tool by GeneCoppoeia -
Search ORF clone by GeneCopoeia
- and order the product ID result.
2. Choose the vector(s) of interest:
Pick-up the vector/expression system(s) you wish to use from the list (see "Principle"" thumbnail or download the order form)
3. Fill out the order form:

and fill with requested information. Send it back to us by email or FAX. We will contact you shortly to confirm: sequences, vectors and controls