Features
Live cell assays: Naturally secreted GLuc reporter, no need for cell lysis. Save samples, reduce variations and simplify experiments for applications such as pulse chase analysis,etc.
Real-time study: Data is generated quickly. Closely resembles real-time activities
Dual secreted reporter system: Secreted GLuc and SEAP Enables transfection-normalization for accurate across-sample comparison
High-throughput compatible: Group or pathway study compatible High sample number compatible
High sensitivity: GLuc is 1000-fold more sensitive than firefly or Renilla luciferase
Quality and convenience: All promoter clones are sequence-verified and transfection-ready
Dedicated assay kits available for read-out: see the list below
Using a secreted and robust Gaussia Luciferase (GLuc) as the reporter, GeneCopoeia GLuc-ON™ promoter clones are designed to detect the real-time activities of over 20,000 human promoters using live cell assays.
Each transfection-ready, sequenced-verified promoter clone contains a 1.2-1.5 kb insert, corresponding to the 5'-flanking sequence located approximately 1.5 kb upstream and up to 100bp downstream of the transcription start site (TSS) of a specific human gene. This insert is placed upstream of the GLuc reporter gene. Since the putative cis-acting enhancer elements are expected to exist in the cloned promoter region, the luciferase activity observed during the reporter assay closely resembles the actual promoter regulation of these genes within human cells.
Fig. 1. Principle of GLuc-ON promoter clones.
Gaussia luciferase
GLuc-ON promoter clones use a modified GLuc (mGLuc) as the reporter gene, which generates a highly stable signal and overcomes the quick signal decay commonly observed with humanized wild type GLuc (wtGLuc).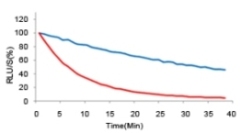 Fig. 2. Signal stability of mGLuc (blue) and wtGLuc (red). Left: assay buffer with a stabilizer; Right: regular assay buffer (Secrete-Pair™ dual luminescence assay kit)
Vector choices
Dual-reporter vectors are available for the GLuc-ON promoter clones. The secondary reporter, secreted Alkaline Phosphatase (SEAP), serves as an internal control. The dual-reporter system enables transfection normalization for accurate cross-sample comparison.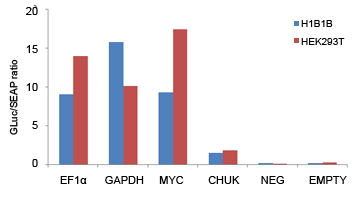 Fig. 3. Normalized promoter activities in H1B1B and HEK293T cells. Dual-reporter promoter clones or controls were transfected into two cell lines in duplicates. Samples were analyzed 24 hrs (HEK293T) and 48 hrs (H1B1B) after transfection. NEG (containing non-promoter sequence) and EMPTY (no promoter in the vector) are negative controls.
1. Identify the gene target of interest:
Gather as much as possible of the following information: Gene Description, species, Nucleotide Accession, Entrez Gene ID, Symbols/Aliases or Catalog/product ID. You can also submit a sequence so we can search by target gene sequences homology (BLAST)
Alternatively, you can use our search tool above or the search tool by GeneCoppoeia -
search promoter reporter clones by Genecopoeia
- and order the product ID result.
2. Fill out the order form:

and fill with requested information. Send it back to us by email or FAX. We will contact you shortly to confirm: sequences, vectors and related products